Driving instructor lesson plans pdf
Driving instructor lesson plan pdfs are very helpful for you in conducting your driving lessons to a high standard.  With a lesson plan pdf you can print off copies for your pupils or use them on any device – at home on your computer or laptop or in the car using your smartphone or tablet. There are some free driving instructor lesson plans available but they are not always of high quality.
Buy ADINinja 2022 version pdf download
Full pdf lesson plan topics list:
Contents
Cockpit Checks
Mirrors
Controls
Accelerator & Brake
Clutch
Gears
Steering
Parking Brake
Giving Signals
Moving Off
Pull up on the Left
Angled & Hill Starts
Emerging Left
Emerging Right
Turning Left
Turning Right
Other Junctions
Crossroads
Other Crossroads
Traffic lights (offside)
Traffic lights (nearside)
Roundabouts
Roundabouts Left
Roundabouts Ahead
Roundabouts Right
Spiral Roundabouts
Roundabouts & Lights
Mini Roundabouts
Roundabouts other
Mini Roundabouts other
One Way Streets
Anticipation & Awareness
Independent Driving
Meeting Traffic
Positioning
Speed
Overtaking
Pedestrian Crossings
Zebra Crossings
Light Controlled Crossings
Dual Carriageways
Motorways
Rural Roads
Town & City Driving
Night Driving
All Weather Driving
Eco Driving
Emergency Vehicles
Turn in the Road
Reversing Left
Pull up on Right & Reverse
Forward Bay Park
Reverse Bay Park
Parallel Park
Emergency Stop
Blank Roundabout
Blank Junction
Road Signs and Markings
Tell Me Questions
Show Me Questions
Test Marking Sheet
Top Reasons for Test Fails
Test Report Form
Basic Procedures
Stopping Distances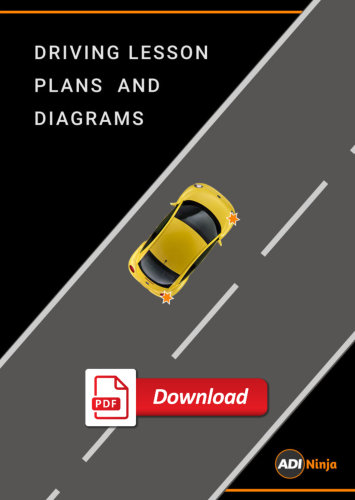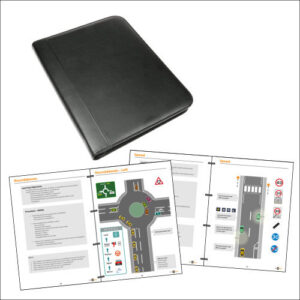 These lesson plan diagrams are copyright. You may photocopy them for the private use of your own pupils but they may not be copied for use by other instructors and may not be published online in any format.
Driving Lesson Plan Q&A
Q&A is an important part of any driving lessons. But sometimes we can get a bit stale or lacking inspiration for questions to use. Here are some suggested Q&A that you can use as a driving instructor with  your driving school pupils when dealing with cockpit checks:
•How can you check that all the doors are properly closed?
•How can you judge that the seat is in the correct position?
•Why should you adjust your mirrors before moving off?
•What might happen if you try to adjust the mirrors while the car is moving?
•Who is legally responsible for passengers wearing seat belts?
•What might happen if a rear passenger is not wearing their seat belt?
•Who is responsible for children wearing the appropriate restraint?
•How can you ensure the wind does not catch your door when opening it?
•What dangers could be caused by the wind catching your door when opening it?
These 500 Q&A questions in pdf form cover 40 different topics.
Download  500 Q&A questions for driving instructors